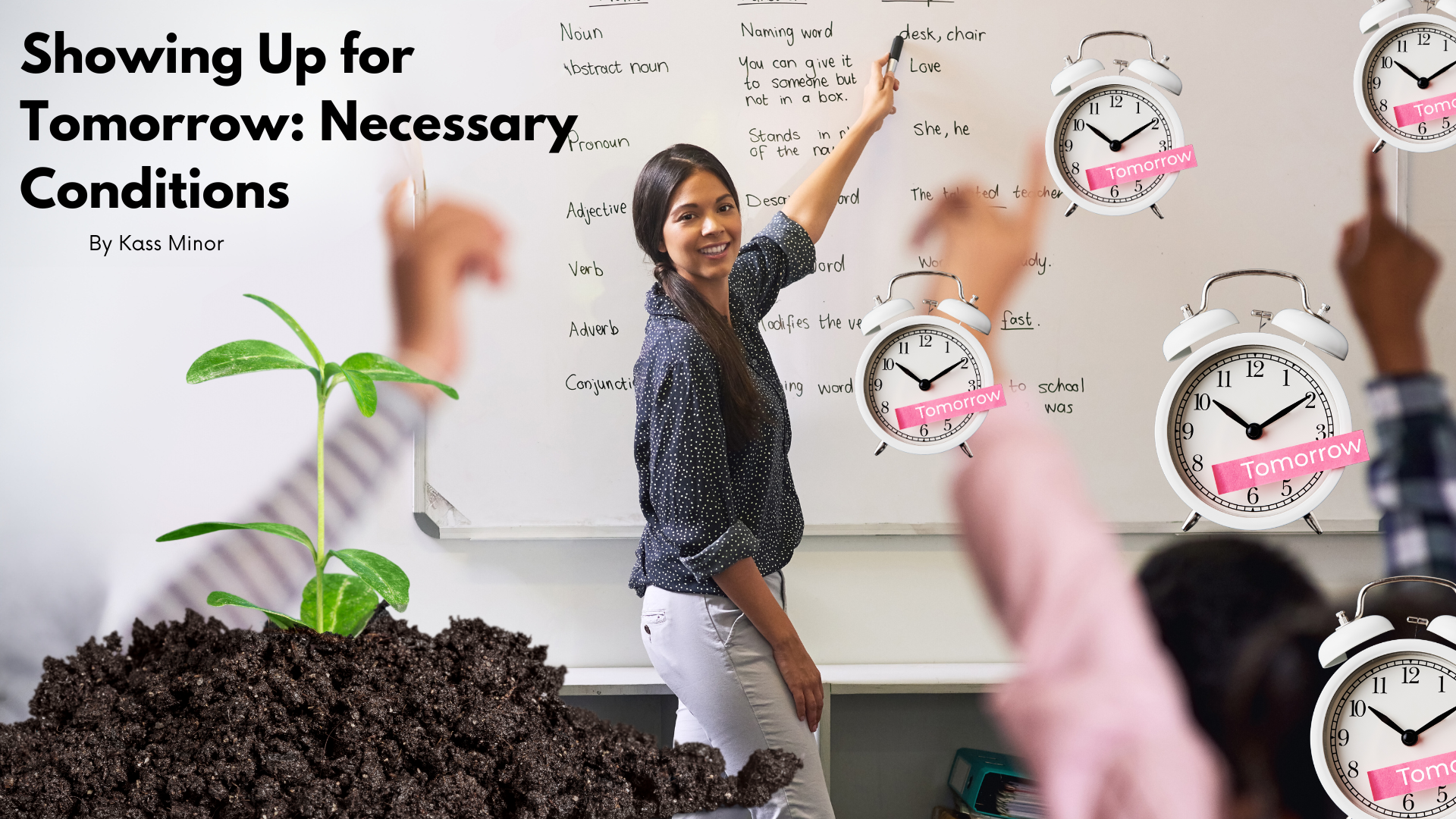 I left the last days of the school year with two tantamount goals in mind. I wanted to: 
a) Figure out how to develop robust spaces for deep reflection in learning communities (thought sanctuaries)
*WHILST*
b) Learning how to develop stronger boundaries for my own deep reflection. 
I spent all summer ruminating: how is this possible, when the system requires so much of us, so much of me?  So I turned to books and art, to people and to past ideas and most recently, to rest. So far, I've been able to figure out a few things based on my summer experiences:
Sometimes "the work" is not "work".
Creators often talk about how they have to live life before they can develop new TV shows or comedic routines, etc. The same is true for educators: We can't always be reading about teaching and learning to feel inspired to create new kinds of practices with our students and with each other. So this summer, I leaned into that idea, HARD. I read great novels and okay novels. I went to Broadway shows, I went to outdoor concerts, I played new card games with my kids. I sat next to Cornelius and didn't talk about school. Not all of my experiences will connect to my future endeavors, but it felt good to expunge the energy of yesteryear, and to feel new vibes emerging for collective learning (more to come!)
Educators ≠ System* 
So, I didn't completely remove non-fiction from my life. In the previous newsletter, I talked about my priority summer read, Rest is Resistance: A Manifesto by Tricia Hersey, founder of The Nap Ministry.  While this book is chock-full of gems, one of Hersey's ideas includes I don't belong to the systems. They cannot have me. (2022, p. 26). As so many of us traverse systems all across our lives, but especially school, remember: You are not the system, and as educators, we have powerful abilities to undo harm and create new opportunities for ourselves and for our students to thrive. *Note: There is also tremendous probability that educators will replicate harm if they are not conscious and aware of systems power! 
Boundaries are contagious. 
I recently had an opportunity to learn from Dr. Bettina Love, whenshe discussed her new book, Punished for Dreaming: How School Reform Harms Black Children and How We Heal, to a group of NYC educators from Brooklyn and Harlem. Dr. Love talked about the tremendous energy communities expend when they work towards undoing harm to build inclusive, abolitionist schools that heal.  Love drove home a major point: if you're not taking care of yourself, developing your inner life, and doing the mirror work, no kind of honest healing is going to happen. That said, you must draw the line when you are done engaging with people at school. Boundaries are required, and they manifest differently for different people. Maybe for you, it's not checking email after 5PM. Maybe it's removing your phone from your bedroom at night. For me, it means no meetings after 7PM. Dr. Love provided testimony too: once one person in the community commits to a boundary and sticks to it, other people feel compelled to do the same. 
Proclaiming that thought sanctuaries are vital to educators' growth and well-being is one thing, but creating the necessary conditions for those things to happen is a whole 'nother reality. As you move into the school year, I invite you to work alongside me, whether it be in spirit, on the internet, or even in real life. Let's commit to building spaces for deep reflection; the thought sanctuaries we all deserve. Let's reclaim this profession not just because we should, but because it's what we love. To do that work, we must experience our lives outside of school, fully; we must understand that we are individuals outside and within the school system; and we must draw boundaries for our rest. 
To read more about building thought sanctuaries, check out Chapters 1 and 3 in Teaching Fiercely: Spreading Joy and Justice in Our Schools. 
Kenya, We Are Smitten.
Two days after school was out, Cornelius and I journeyed to Kenya, joining a team of authors, librarians, educators, and visual storytellers, collected by and connected to author Kwame Alexander. For the next ten days, we participated in a cultural literacy exchange hosted by NGO Kenya Connect, spending time in Nairobi, Makutano, Wamanyu, and the Maasai Mara. We left feeling lifted and lighter, having learned beyond the scope of what traditional education offers.
Literacy is this thing many of us educators and parents and people in general get worked up about–whether it be our growing excitement about the series of summer reads we finally have time for, the beautiful development of new waves of teaching and learning we build for classroom life, or even…the piling frustration we experience when our children come home from school not wanting to talk about it. But those who have spent any amount of time unpacking literacy know that it is a precious resource for humanity to consider itself thoughtfully, and that without it, we are in danger of…well, just about everything. [case in point] [case in point] [case in point]
Our trip was centered by the literacy waves we build for kids and teachers in schools, but our trip was illuminated by the love that is woven between humans who share their stories. Between the 14 hour plane rides, jam-packed cargo vans, learning new school culture, teaching on rooftops, dancing before (and after) learning, navigating three languages, meeting lions, warthogs, hundreds of zebras, birthday deep-humming, bitter lemon sodas, collective conversion of schillings to dollars/dollars to shillings, the most epic games of spades, and getting our picture taken 4,002 times, we are now bounded by our love, as well as our literacy. 
Part of us feels strange, sharing our trip, our stories, our love with the world. But we are reminded that it is this very sharing of ourselves that grows collective love and understanding between the wider scopes of humanity with whom we are in community with, and those we have yet to connect to.
We wonder–how are you sharing your stories this summer? What or who is being centered? What or who is being illuminated? And how does this sharing [potentially] envelope you with love? 
I invite you to peruse  the interactive padlet below,  peeking into my short photo essay-story: Kenya, We are Smitten.
An interactive Padlet is included below.
A Textual Lineage and Timeline Pedagogy: Widening Perspectives on Asian American Pacific Islander Histories
By Kass Minor
May 17, 2023
Summary: As you develop book lists for the students you teach, or the children you care for, consider honing and probing your own knowledges based on your relationship and understanding of the group you are honoring.
I love that so many educators are inspired and committed to reading representative texts that underscore the diversity of our humanity. Thematic months such as Black History Month, Indigenous People's Month, Hispanic Heritage Month, Jewish Heritage Month, and Asian American Pacific Islander Heritage month are all powerful in centering people who have not been represented equitably in our schools or society. May is AAPI Heritage Month.
As I think about the learning students experience by interacting with these texts, I wonder how educators are learning the histories, events and experiences that contextualize each book. For example, I recently spoke with a teacher who witnessed a Social Studies exhibition where her own children presented projects based on the lived experience of Indigenous peoples. We reflected together about how different, and far more truthful, kids' learning about Native American lifeways are now versus what we learned going to school in the 1980's. How can we work towards accuracy and thoughtfulness when we plan our shared literacy experiences? First, we can start from a place of honesty, and that often requires us to admit what we don't know.
As you develop book lists for the students you teach, or the children you care for, consider honing and probing your own knowledges based on your relationship and understanding of the group you are honoring. One way to do this is through text-based experiences, both in life and in books. In the example above, I used Alfred Tatum's concept of textual lineage to evoke my own journey in working towards a deeper understanding of AAPI histories. This type of reflection can lead to text-based classroom experiences that are shrouded in care, lending themselves to more thoughtful conversations within your community-whether they are children or adults.
Consider engaging in a textual lineage experience during in-school meeting spaces, like a grade team meeting or whole-staff professional development. You may even consider doing this work before launching a unit, or planning text sets (We Need Diverse Books and I'm Your Neighbor Books are great starting places to find themed text sets) before a themed unit begins. Alfred Tatum offers excellent resources to do textual lineage work via Learning for Justice.   
This work is also an iteration of Timeline Pedagogy, the idea that to move forward, you must look back. I write about it extensively in my new book, Teaching Fiercely: Spreading Joy and Justice in Our Schools. 

Celebrating Cornelius in Community
May 8, 2023 (Today is Cornelius' Birthday!)
Cornelius breathes so much life into this world, and he does it with so much care. Let's celebrate him as much as he celebrates all of us. Please leave a message, an image, a memory, or even a simple "Happy Birthday" with your name on the padlet below so he can experience bundles of joy from the incredible community that surrounds us. The link will close at midnight tonight!
Leave a message for Cornelius using the linked padlet below!
https://padlet.com/theminorcollective/celebrating-cornelius-minor-s-birthday-today-may-8-awtaqrmctoqsb7n4
Something Feasible: A Bite-Sized Approach for Professional Learning and Student Engagement
April 5, 2023
By Kass Minor
Summary: Within the first five minutes of class, the communal space generated between teachers and students can change the trajectory of students' next forty minutes of learning. 
In the enormous sea of possibility that ebbs and flows throughout schools spaces, I find myself and my edu-family feeling overwhelmed as we search for ways to motivate and engage students. There are thousands of ways to move forward to create an environment that cultivates engagement, but which are the most impactful, developmentally sound, student-centered, and culturally relevant?  
We think deeply about powerfully revised curriculum, thoughtfully about implementing restorative practices, and attentively about how to deliver targeted instruction. And we question how to leverage those teaching and learning shifts so students learning and engagement is sustained at school. But we often find ourselves skipping over an important aspect of that work: what is feasible? 
Not everybody (including myself!) has the headspace to soak in all the possibilities of what could be given daily school life and all the wondrous yet harrowing variables that come with it. Teachers do not have programs that allow for hefty changes in their curriculum to take place immediately, and school leaders find themselves continually understaffed. Students find themselves both at peace and odds with the daily routine of school. 
So, lately, I've been embracing bite-sized learning for all people, even for us adults. I'm not suggesting that we do away with investing in longterm changes for the way we teach and how school goes, but I am suggesting shifting how we implement new and/or revised practices towards student engagement in ways that are more manageable.  Launching an entirely new curriculum or behavioral initiative can be a multi-month and many PD hours-long process, but in the mean time, what if we first just focused on… the first five minutes of class? 
When special emphasis is put on the first five minutes of class, the communal space generated between teachers and students can change the trajectory of the next forty minutes of learning: student attentiveness is more likely to initiate and engagement is more likely to be sustained. 
The idea of first contact underscores the first moments at the start of class when teachers and students interact with one another, when students first sit alongside their peers, and when everyone in the community first experiences the classroom environment together that day.  To enable more powerful engagement in ways that feel manageable for students, teachers, and school leaders, I created these bite-sized steps below to amplify the importance of the first five minutes of class.  
Three Things to Pay Attention to for the First Five Minutes of Class
Help kids revise their energy as soon as they enter your classroom
Stand near the classroom entrance and model a strong, yet warm presence. This looks differently pending one's personhood, but the most important factor of first contact is the genuine regard students feel from their teacher. 

The sensory experience of classroom spaces matters. Consider lowering the lights, playing soft music, or even showing the "Lofi Chillhop" youtube channel playing on the Promethean background.  

If students bring in negative "hallway energy" into the first moments of class, consider

your

behavior first to deescalate their energy. Fritz Redl's strategies (below) are simple yet powerful ways to reposition potential disruption. 
Deescalation strategies adapted from Fritz Redl: 
• Offer limited choices
• Use an "I" statement
• Name the feeling
• Use humor
• Drop the expectation for now
• Ask, "what can I do to help you?"
2. Initiate Positive Conversations and/or Nonverbal Affirmations 
Acknowledge students as they enter the room with a "good morning/afternoon", a smile, or a fist bump. Welcoming and greeting each student by name shows effortful care.  

Appreciate your students and/or colleagues-notice their presence and/or contributions such as "I'm so glad to see you today," or "thank you" when students raise their hand, or even when they redirect their behavior. Low-stakes appreciations are especially important for students who don't appear to feel a great amount of success in your class or who have an adverse relationship to school.
 3. Introduce an accessible task. One way to develop your affirmation skills is to make hashmarks for yourself each time you affirm your students, or you can have a colleague visit your classroom with that same lens to help you track your affirmations. Ideally, throughout the class period, every student will have experienced an affirmation at least once. For example, if there are 25 students in your class, you would aim to deliver an affirmation once every two minutes.
Ensure there is a warm-up that is clear and doable for every student. T

he function of a "warm-up" or "do now" is to prime students for learning in a communal space, and create an entry point for the lesson objective,

not to stump your students.

Highly visual information that connects with kids' schemas is often a great combination for engaging and accessible warm-ups. 

Anticipate the accommodations needed for students to access the task. When students enter the room, the task should be accessible for all of your students. For example, if you have one child with a print-based disability, create heavy visuals to support the students' comprehension, ensure the task is read aloud, or develop a clear routine to support them in knowing what to do. If there are only words in print to describe the task, you risk almost  immediate disengagement.

If your warm-up includes a homework check, anticipate that some students may not have their homework. Plan for an alternate warm up, or if there is more than one teacher in the classroom, review or pre-teach concepts that are relevant to the day's learning with those students. 
To learn more about developing school-wide inquiry on joyful learning, check out Kass's book Teaching Fiercely: Spreading Joy and Justice in Our Schools, releasing May 2, 2023.
"Joy" Can Be Another Edu-buzzword, Or It Can Be Real
March 25, 2023

By Kass Minor
There are days where my "why" in the work of teaching and learning is re-affirmed, and yesterday was one of them. 
Thanks to PS 94, Principal Christina Gonzalez, Assistant Principals Rose, Doris, Jean Marie, Sharon, Instructional Coach Ashley, and all the educators and kids and families who've fostered a community where something like joyful learning can manifest, with intention–with a research base and personal commitments, wide-scale. 
Recently, we continued our inquiry into joyful learning. This inquiry was, and continues to be communal, underscored with questions and possibilities generated by the community, and overall, very buzzy! 
First, we created local and shared understanding on what Joy meant for the community, collectively. [No one person, especially from the outside, can pose their ideas of joy onto a people. It's gotta be co-constructed.]
Then, we tackled our conceptual understanding of it really means to learn in a space like school. "Learning in school" might seem like a no-brainer, but many times what we see is compliance and performance as opposed to deep, authentic learning. 
We grappled with balancing standards, student-centeredness and joy. We interrogated the term "rigor". [Spoiler: rigor does not mean super hard and challenging-rather, it means that you are teaching within a child's ZPD and are using their schema and personhood to develop new understandings]
We self-identified how, when, and why people in school [including teachers] experience adrenaline-based learning vs. joyful learning. 
Finally, we co-constructed community understanding of attributes of joyful learning as they already manifest, or could manifest, in PS 94 classrooms.
During this time, the whole community worked in micro-communities, used lots of different materials, including play dough, pipe cleaners, charts, markers. Some groups even performed construction of joy using drama and tableau. 
Long story short: Inquiry-based learning is beautiful. Joy can be a buzzword, or it can be real. To do the work of scaling up something as powerful and human-centered as joyful learning, the whole community has to be a part of the initiation and investment of the inquiry-based journey. Local and collective understanding is key. 
——
To learn more about developing school-wide inquiry on joyful learning, check out Kass's book Teaching Fiercely: Spreading Joy and Justice in Our Schools, releasing May 2, 2023.
"It was a magical day at 94. In looking at the work the staff engaged in together and as we use this work to deepen our understanding of what it means to provide meaningful experiences we are understanding that joy is well deserving and only takes place when is co-created with our teams and our students. I am so excited for the work ahead of us!"- Cristina Gonzalez
[/fusion_text][/fusion_builder_column][/fusion_builder_row][/fusion_builder_container]